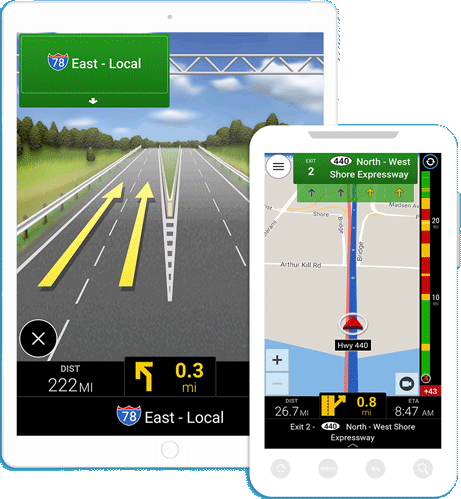 RV-Specific Routing
Dependable Offline Navigation
Distraction-free Guidance
Smart Trip Planning
Safety Features with Motorway Guidance & Alerts
Buy Now

Built for RVers
Every RVer knows that it takes a special breed to own a RV. You have an inherent love for adventure, seeing new places and collecting memories along the miles.
That's why you deserve a navigation app designed specifically for you.

Explore without Limits, RV without Borders
Don't let your travels be limited by the fear of high data bills. With CoPilot's reliable offline navigation, you'll never again duck in and out of a signal or wait to find which direction you're heading in
---

Get Value for Your Money
You don't need to part with hundreds of dollars for a GPS device that can cater to your vehicle's specific needs (or your heart's desire to cross state borders!)
---

Stay Safe and take the Stress out of Driving
CoPilot calculates your route according to your vehicle size and class (height, weight and length), to prevent any dangerous or costly run-ins with low bridges or propane-restricted tunnels
---

Travel More, Travel Better
CoPilot's powerful route planner allows you to plan a trip of a lifetime with up to 50 stops, automatically calculating the best route. This helps prevent stressful wayward journeys, to save time and lower fuel costs
---

Distraction-free Driving
Lane arrows and ClearTurn™ view with road signage show you which lane to be in so you can safely manoeuver lane changes and complex intersections well in advance
---

Discover What's Around You
Easily find campgrounds, gas stations, hotels, restaurants and more. Plus, you can search with Yelp from within the app to find even more places to go

"Great app. We have a travel trailer and go out two weekends a month. This is great for keeping me out of trouble on the road. I even use it for everyday god with my car. Well done and worth the money." – GMattesonUSMCTX - App Store

"Incorporates a nice search option for finding facilities along your route . Allows you to personalize your vehicle specs and route preferences, and a speed setting feature that alerts you if going faster than your presets. " – WstoneWY - App Store

I really like this app. I like the ability to use the GPS without cell coverage. Saved me from having to buy a standalone RV GPS. – DocH - App Store
Also benefit from:
Clear, easy to follow directions designed to reduce driver distraction on long journeys
Safe, fast routing, or explore what's around you and take a more scenic route
Millions of Places you need most, including rest areas, campgrounds and gas stations. Plus, you can search Yelp from within the app to find even more places nearby to go.